Finalization
Menu -> Report -> Finalization

Here, you can find and deal with tours or services exterior:

Search according to departure date.
Search according to the tour code made.
By Partner/Customer.
The Step:
1. Overview the general finalization table:
To view the final settlement of a tour, access the link
above
, left-clicking on a tour displays the details of Total Receipts and Total Expense for each service of that tour.

Image 1: Detailed total receipts of a booking

Image 2: Total expense of services used of a booking

Image 3: Summary of Tour's revenue, expenses, and total excluding VAT
2. View details of the finalization table:
To view a tour, right-click the tour we want to view and select

. A popup panel appears full service information and costs, profits, ....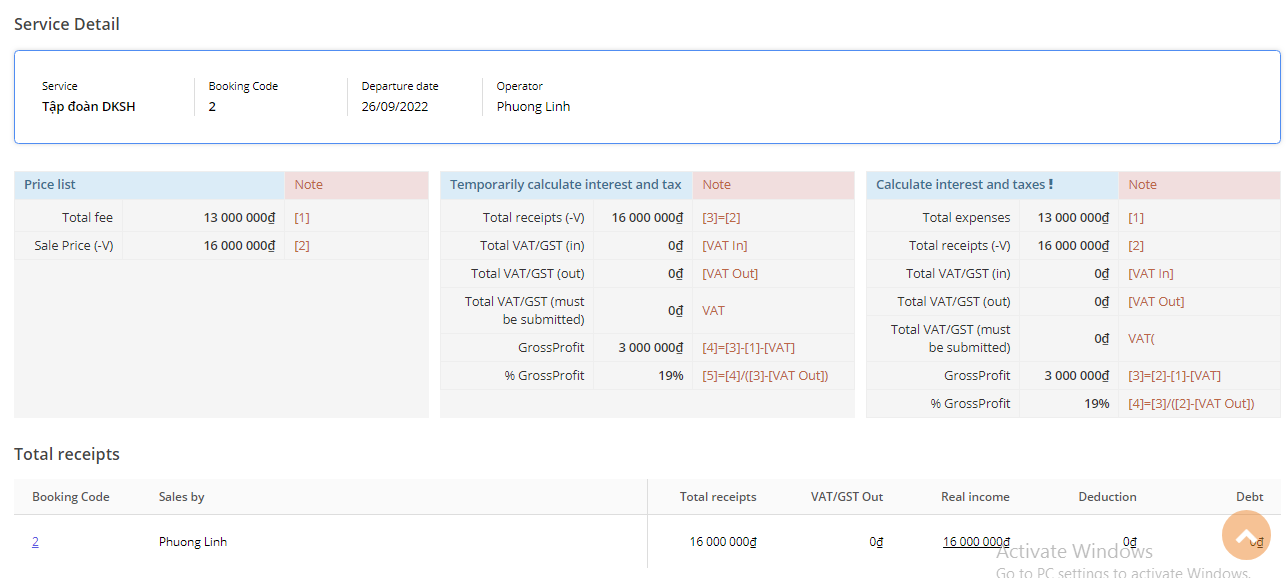 Image: view detail service of a tour performed
The data in this table shows in detail Information such as: Tour name, tour code, number of customer, departure date, end date, actual payment, estimated payment, actual revenue, estimated revenue, list of other expenses,...
In particular, in the detailed view of this tour, the finalization shows the tour profit after deducting VAT and calculating the profit % of that tour.
+ Price list: Includes information about the estimated total cost of the tour's services, the number of customer, the cost charged for a guest in the tour, the profit level based on the estimated expense and revenue of that tour.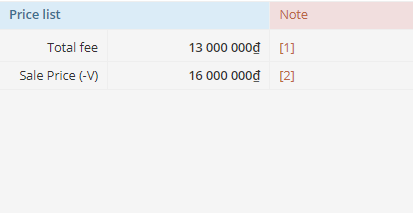 Image: Digital data related to the price of the tour
Note:
- For SIC tours that include external services, the costs of external services is calculated separately.
- For Private tours using external services, the costs of external services will be added to the cost of the tour.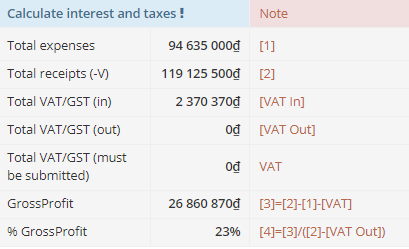 Image: SIC tour has external services, external services will be charged separately.
+ Temporarily calculate profit and tax: Show Total revenue, Total VAT purchased, Total VAT sold, gross profit and % gross profit based on estimated data (total expected expenditure, total expected revenue)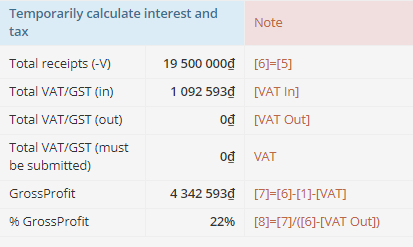 + Calculation of interest and tax: Total actual revenue, total actual expenditure, VAT sold and VAT purchased based on the amount paid for services to the Supplier, gross profit and % gross profit based on actual revenue and expenditure of that tour. This is the final data, the tour's exact data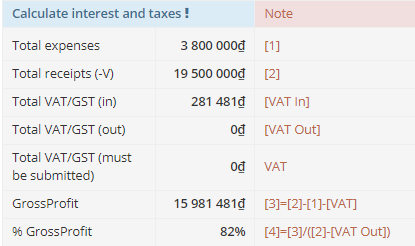 3. Separation of finalization:
This function applies to Group Tour (SIC Tour)
When a tour includes many bookings of many different Sales, this function: separation of finalization solves the difficulty in controlling the total revenue, payment, deduction and debt of each sales in the tour performed.
This Finalization Separation Table displays revenue, total revenue, total payment for each specific sale and each specific booking.
Update: